How Businesses Benefit from the Private Cloud
Private Cloud Definition
The term "private cloud" refers to a type of cloud computing where IT services such as data storage, backup and security are provided over a dedicated network to a single organization or set of users. Private clouds feature a number of characteristics that separate them from other virtual services such as the fact that they are:
Privately owned
Available only to a limited number of users
Secured behind a firewall
Organizations that use these services are often searching for greater security and control over their data without having to compromise on storage space or rely on third party hosted solutions that may have limitations on the type of data that can be stored.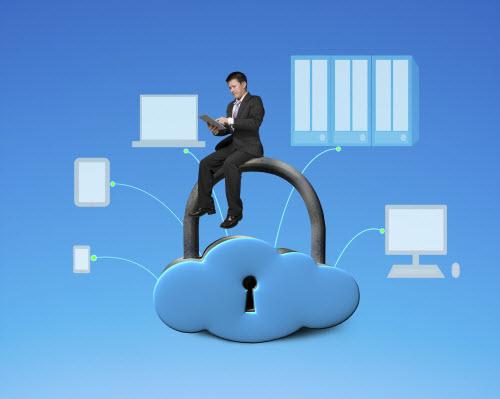 What is the Private Cloud Model?
The private cloud model is what is referred to as "PaaS" or Power as a Service, where a specific client has access to a physical pool of computing resources via a virtualized environment. In other words, the client is storing data, running programs or backing up information in a virtual environment that is provided by servers that are in a different physical location from their own. While organizations can set up their own private cloud networks, many opt to use a secure network provided by a third party as it takes the hassle and responsibility of management and maintenance off their shoulders.
Defining private cloud services from a technical point of view is slightly more challenging since the technical aspects of providing the service can vary. Instead, most providers choose to categorize cloud services based on the kinds of features that each level offers such as enhanced security or additional storage space, for example. Private clouds differ from public clouds in that they offer higher levels of network security and are designated for the sole use of one client.
Public cloud services, on the other hand, are often accessed by multiple clients who all use resources from the same servers, on the same public networks. Private clouds, by contrast, also get their resources from physical servers but, those servers are not accessible to just anyone. They may be hosted internally, privately leased and employ secure encryption to ensure a secure network connection. Contact Sales@convergedsystems.com to learn more about our secure private cloud networks.
Who Uses Private Cloud Services?
Private cloud services are ideal for a variety of organizations, from the enterprise level organization in need of vast amounts of data storage to government organizations that require a secure environment in which to carry out sensitive tasks. In fact, many kinds of organizations such as financial organizations, schools, corporations, government agencies, healthcare providers and more use private cloud networks either by requirement of law or because of the security it allows them to offer their customers.
Benefits of Private Cloud Networks
One of the reasons that so many organizations prefer the private cloud is because of the similarities it shares with Local Area Networks (LANs). Because of this, it isn't as great of a jump for a business that has been using a LAN previously to relocate a portion of their data to the cloud. Of course, such a move also comes with a few additional perks as well:
Enhanced Security
While public clouds can offer a certain level of security, you wouldn't want to store your most sensitive information on them. When it comes to proprietary data, financial statements or customer information, private cloud networks can help ensure that your information stays out of the wrong hands. In a private cloud network, each organization has access to its own distinct pool of resources that are accessible only from behind that organization's firewall via dedicated leased lines or onsite internal hosting.
Increased Control
Unlike public cloud services where you may be locked into a predetermined network setup, private networks offer much more flexibility and control. With a private cloud, an organization can set up their network in a way that works best for them instead of having to adapt their processes. This increased control means less time and effort on their part however, there is a tradeoff. Increased control often requires centralized management software which can make private cloud networks difficult to scale without experienced IT staff on hand.
Energy Efficient and Economical
Energy efficiency is a major concern for many companies these days, and anything that can help an organization save money and become more energy efficient is sure to be a welcome addition. One of the ways in which the private cloud excels in this area is in the allocation of resources. Private clouds can help organize and allocate resources in a way that don't put additional strain on your network, yet ensure that they are available to those who need them. The benefit in this, of course, is reduced costs, greater flexibility and higher productivity.
Improved Reliability
No matter how secure, networks can and do, go down. This can spell disaster for organizations that depend on those networks to keep sensitive information secure. Private cloud networks, on the other hand, offer a virtual operating environment that is more resilient to failures in the physical system. This is because private cloud networks operate across numerous servers, creating partitions between each which allow them to pull resources from different areas. This is extremely beneficial for organizations that depend on the availability of their cloud network as it greatly decreases downtime.
Real Time Examples of a Business Private Cloud
The public cloud offering although very attractive in price can lack personalization, flexibility and customization. With a public cloud, clients may feel the impact of other client loads, traffic, scheduled and unscheduled maintenance and physical maintenance such as changes or upgrades to the solutions architecture. In addition, your business may not always be able to gain access to an easy feature of a solution since the public cloud offers less flexibility. This is where the strength of the private cloud can really benefit your business. Some common real time examples and benefits of a private cloud include:
The ability to offer full flexibility of Microsoft Exchange along with the benefits of the always on/redundant data center.
Transferring email to a private cloud solution can be as simple as moving it into another room.
Moving an on premise telephony infrastructure (i.e. Avaya Private Cloud) to a private cloud solution in order to get best of both worlds.
Is a Private Cloud Network Right for My Business?
The benefits of private cloud networks are clear: enhanced security, increased control, improved reliability and greater efficiency, all at a reduced cost. Moving to the cloud isn't as great a leap as many organizations might think. And, as technology continues to improve, so will the cloud networks that are a result. In fact, for many organizations, the private cloud is fast becoming a natural and even expected first step away from traditional solutions and into the future. Contact Sales@convergedsystems.com to find out if a private cloud network is right for your business.