CCS Service Center
CCS IMPLEMENTATION GOAL: To provide a complete installation with minimal downtime and disruption to your business.
1. Installation, Programming, and Training
Here is an example of the step by step CCS implementation process that allows us to achieve our goal:
STEP ONE:
Information Gathering: You will be assigned a Project Manager who will guide you throughout your project. During this time, your project manger will review your upcoming project in full detail, set the level of expectations, and coordinate installation/training dates.
STEP TWO:
Pre-Installation and Remote Programming: Based off all the information gathered, your solution will be pre-programmed at our offices.
STEP THREE
Installation: Since over 90% of our customers request an after-hours installation, we believe it is senseless to charge overtime labor. We will be flexible in setting your install date and time after-hours at no additional charges. Your installation team, including your project manager, will install your pre-programmed solution to allow for a smooth transition. Any further modifications will be completed at this time.
STEP FOUR
First Day of Business Coverage: We will be onsite for first day of business coverage. This includes making any final changes to your setup, as well as training. Training includes full end user and administration training. You will also be provided customized administration guides based on your needs.
STEP FIVE
Post-Implementation Support: We provide in-house maintenance and support services. By having all our service resources in-house, our team is ready and able to assist you.
2. Post-Warranty Maintenance Programs
We offer our customers the option of a CCS or manufacturer-based post-warranty maintenance policy. Almost all of our customers elect our CCS services because it offers the same coverage and response time at a lower price with a personal approach.
CCS Nationwide Support Group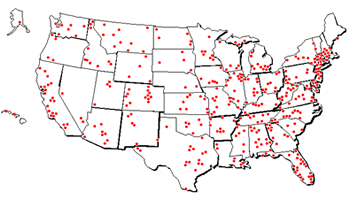 Check out CCS Online Support for the latest Tech Tips, End User Guides, Frequently Asked Questions and much, much more...
From coast to coast, Converged Communication Systems' maintenance plans allow you to feel more comfortable that your technology investment is secured and monitored. From simple moves, adds, or changes to more complex applications such as VoIP, Unified Messaging, and Voice/Data Multi-Site networking, let the Converged Communication Systems support group assist in your next voice and data project.
For more information on our service offerings and coverage, click Services. For online support, tech tips, user guides and frequently asked questions, click Online Support.
Contact our CCS sales team for more information at 877-598-3999