Avaya Maintenance : Phone System Support and Services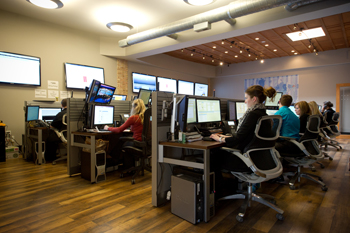 Converged Communication Systems and the Avaya Global Services provide premier nationwide phone system support and maintenance services for both telephone and data equipment for your small, mid-sized and large enterprise needs.
If you are a current Avaya maintenance customer we can help manage your account with Avaya to ensure all appropriate equipment is covered and that you find the best plan for your business needs.
Focusing on industry leading Avaya Communication telephone systems and IP telephony solutions, Converged Communication Systems provides a complete telecommunication package. Our packages include everything from dial-tone and internet services, industry leading telephone solutions, superior professional service and installation, to exceptional, nationwide post-installation maintenance support. We have achieved a 99% customer retention rate by providing expert support with quick response and resolution times.
Avaya System Installation
Converged Communication Systems provides voice telephony equipment and data networking equipment with enhanced service, support, and maintenance for all Avaya Communication solutions and products.
Back in 2001, Avaya Communications (formerly Lucent Technologies) started stepping up its mass marketing efforts pushing customers to use the distribution channel unless you are a national account or extremely large in size (1000+ endpoints per site). Converged Communication Systems has a full in-house support team ready to help with Avaya equipment, Avaya installation, Avaya training, Avaya programming, Avaya support, Avaya service, and Avaya maintenance services. We are a fully certified and authorized sales and support group that is here to help you with your voice and data project. Avaya Global Services (AGS) is an organization that handles the national account chains as well as large sites (1000+) and works with our support group on an everyday basis to provide enhanced Avaya professional services. Contact our CCS sales team for more information at 877-598-3999.
CCS Nationwide Support Group
From coast to coast, Converged Communication Systems' maintenance plans allow you to feel more comfortable that your technology investment is secured and monitored. From simple moves, adds, or changes to more complex applications such as VoIP, Unified Messaging, and voice/data Multi-site networking, let the Converged Communication Systems support group assist in your next voice and data project. Contact our CCS sales team for more information at 877-598-3999
Phone System Programming, Training, Installation, and Maintenance
Avaya programming, easy to use support resources and management tools are what puts Avaya Communication ahead of their competitors.
Avaya training involves full end user and administrative training that helps you get a better return on investment. Some customers that don't want to mess with phone system programming or others that want a fully managed solution turn to Converged Communication Systems Avaya programming support group to perform remote moves, adds, and changes.
Data Network Services
Converged Communication Systems can help you build and maintain your data network and infrastructure. Our centralized Chicago support center is ready to remote monitor and diagnose issues that may arise and also for those companies that lack IT personnel we can be your IT consultants as well as your IT staff.
International Services
Avaya Global International Services and Converged Support Group Nationwide coverage allows companies faster responses to business critical communication operational issues that businesses are exposed to on a daily basis. The CCS nationwide support and maintenance team with Avaya's Global Service coverage, provides premier service, programming, installation, maintenance and all other related IT and telecommunication support requests. We cover communication solutions that extend from business telephone systems, VoIP Telephony solutions, complex telephony applications (CTI, Contact Center, Call Center, Call Accounting, Voicemail, Unified Messaging and Communication, IP Softphones and trunking, etc), telephone service, IP phone service, data internet service as well as being your greatest ally regarding IT support and IT consulting and data networking services for all businesses.
We help your business leverage technologies by partnering with a number of third party communication, data networking, and Telephony providers to give you a complete end-to-end telecommunication and IT solution. Our goal is to provide quick response times, knowledgeable service and support staff, nationwide coverage, extended and critical business hours and more.
The CCS nationwide support team leverages the our centrally located Chicago distribution, dispatch, support, and monitoring headquarters to assist businesses from coast to coast with local support offices to your business to help with onsite needs. Avaya Global Services is based out of Denver, Colorado, which allows enhanced monitoring services for enterprise class customers to provide customers on the enterprise level high level of reliability for those telephony and IT applications that need 99.999% uptime.
Contact our CCS sales team for more information at 877-598-3999