Could Your Business Benefit from a Cloud Contact Center?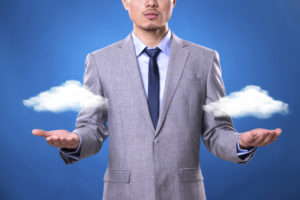 The consumer experience is a driving factor for the profitability of businesses. How a company cultivates its relationship with a customer base is done in several ways but mostly through communication. Some make sales with call centers, while others run email campaigns.
But how is the infrastructure handled? Is it maintained by the business itself, or is it outsourced to a third party? In some cases, that third party is a cloud contact center. Many wonder if this method is right for their organization too.
While it has plenty of benefits, a cloud contact center (or any third party service) may not be what your business needs. On the other hand, it could completely turn a company around in times of slow production or profit. So it's important to go over a few things to determine if this solution is a good fit for your business or not.
For one, consider cost. How much does your business spend on monthly communication infrastructure? This includes everything like telephony bills, hardware installations, maintenance (if needed), support, call volume, and so on. Comparing this to the overall cost of a contact center (not just the initial investment) can give you an idea of where you'd stand financially over time.
Then it's important to look at how effective your communications infrastructure actually is. In times of high call volume, are callers on hold for long periods of time? Are you generating enough sales through your current communication methods? Or, is the strain causing too much slowdown, detracting from productivity?
The thing about third parties is that they are able to remove this strain, consolidating things like customer service into one center so your own workers can focus on other calls. This saves a great deal of time and money, so it's worth considering if you're dealing with the previously mentioned problems.
Considering how much network infrastructure you need is also important. If your business is growing steadily and requires new installations for workers, cloud centers present a good opportunity. Their deployment of network services is software and Internet-based. This means you don't need various phone installations to get things running. That allows for greater cost savings and easier maintenance while also setting up crucial services quickly.
To emphasize those savings, one other thing to consider is scalability regarding services. With built-in infrastructure, your business has to continue paying fees for maintenance and other associated costs for its network. However, with cloud services, you can scale down when not using specific services. If you gain 10 staff members, you can add 10 installations via software. But if you lost 20 staff members, you can reduce costs by quickly scrapping the software services they used. You're only charged for what's needed.
So if your company is reliant on customer feedback, sales, and communication, then cloud contact centers can absolutely prove beneficial. Consider the reasons listed above carefully, and you might have found yourself an ideal solution.