5 Benefits of Using Blue Jeans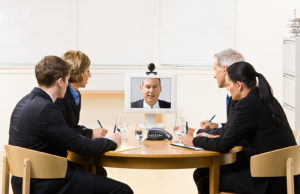 The name "Blue Jeans" might make you think of comfortable pants, but it's also a robust communication solution for different businesses. Since communication can make or break a project or task, it's important to have the right resources available.
In comes Blue Jeans, a cloud-based video conference system to better connect your workforce for improved collaboration on tasks, projects, and general workflow. To give you an idea of its potential, here are five major benefits of using Blue Jeans:
1.Mobile connectivity. Workforces of today rely more and more on mobile devices, from smartphones to tablets. Integrating this into your business model can be highly beneficial, so Blue Jeans offers seamless connectivity. Any compatible mobile device can have a cloud-based app installed and then connect to conference rooms without issue.
Users can also access conference calls through their web browser, so long as they have proper Internet speed.
2. Increased conference size. Not only can people login from multiple areas but numerous endpoints are accessible as well. For managing projects on the go, management can deploy presentations in video conferences with up to 3000 participants. This expedites the communication of details about new projects or important information with all the power of mobile compatibility.
These events are hosted with high-definition video and crisp audio, along with automatic recordings of video presentations for future use.
3. Cost savings and efficiency. Typically, when setting up new communication infrastructure, there are considerable costs associated with new hardware and installations.
However, Blue Jeans is purely cloud-based, meaning there is no need for these pricey investments. No license is required, no expensive software or hardware must be purchased, and services can be scaled as necessary.
4. Enhanced management capabilities. Monitoring video conference performance and visualize conference elements is an ability hosted through Blue Jeans Relay. This allows for additional features to be accessed such as managing real time data for improved performance. Additionally, it gives a level of control greater than generic video conference solutions.
5. Improved conferences. Last but not least, with all the flexible features mentioned thus far, a company can improve its "face-to-face" performance by circumventing physical and budgetary limitations.
Project management becomes easier and more efficient as users collaborate with better efficiency, presenting visual elements and accessing data from anywhere. Companies can also utilize Blue Jeans to better interact with their consumer base, making sales or other important deals through the power of cloud-based video conferencing.
This additional enhancement also improves distribution of information to employees and management alike, assuring that details about projects or ideas are conveyed with creative, efficient methods.
If your business relies on a mobile workforce or communicates through conference elements, it might be time to consider Blue Jeans. The resources offered will not only help you manage video conferencing better but will also increase productivity and profit by utilizing fewer physical resources and efficiently distributing information among employees.